If you're considering a college degree, you may be considering the various arguments for and against the value of earning one. 
Many professionals cite "the ability to make more money" as the motivating factor behind why they chose to pursue a college degree. But does earning a college degree actually lead to a higher salary? And if so, how much higher? Is the increase in pay ultimately worth the time, effort, and money spent earning it?
The short answer is: Yes! Advancing in your education does typically lead to higher annual and lifetime earnings, at all levels of education. 
How Does Income Correlate with Education? 
It's important to acknowledge the correlation between higher average earnings and college education. Salaries for college graduates are typically higher than those without a degree due to the level of knowledge that comes from higher education. Demands for specific expertise vary depending on the field of study and industry one might pursue. This is not to say it's impossible to succeed without college, but there are several benefits to obtaining a degree that you should consider before ruling out educational advancement.
Below, we explore the average salary earned at each educational level so you can better understand your current earning potential and make a smarter decision as to whether or not earning a college degree makes sense for you.
[Editorial Note: All salary data is sourced from the U.S. Bureau of Labor Statistics (BLS).]
Average Salary by Education Level
Each education level is associated with a different salary. The median annual salaries for each level include:
Less than a high school diploma: $32,565
High school diploma: $42,081
Some college but no degree: $46,755
Associate degree: $50,093
Bachelor's degree: $69,381
Master's degree: $81,867
Doctorate degree: $99,290
Professional degree: $100,060
There are additional factors you should consider when deciding whether to advance your education. For example, since different employers prefer different levels of education, earning a degree can lower your risk of unemployment.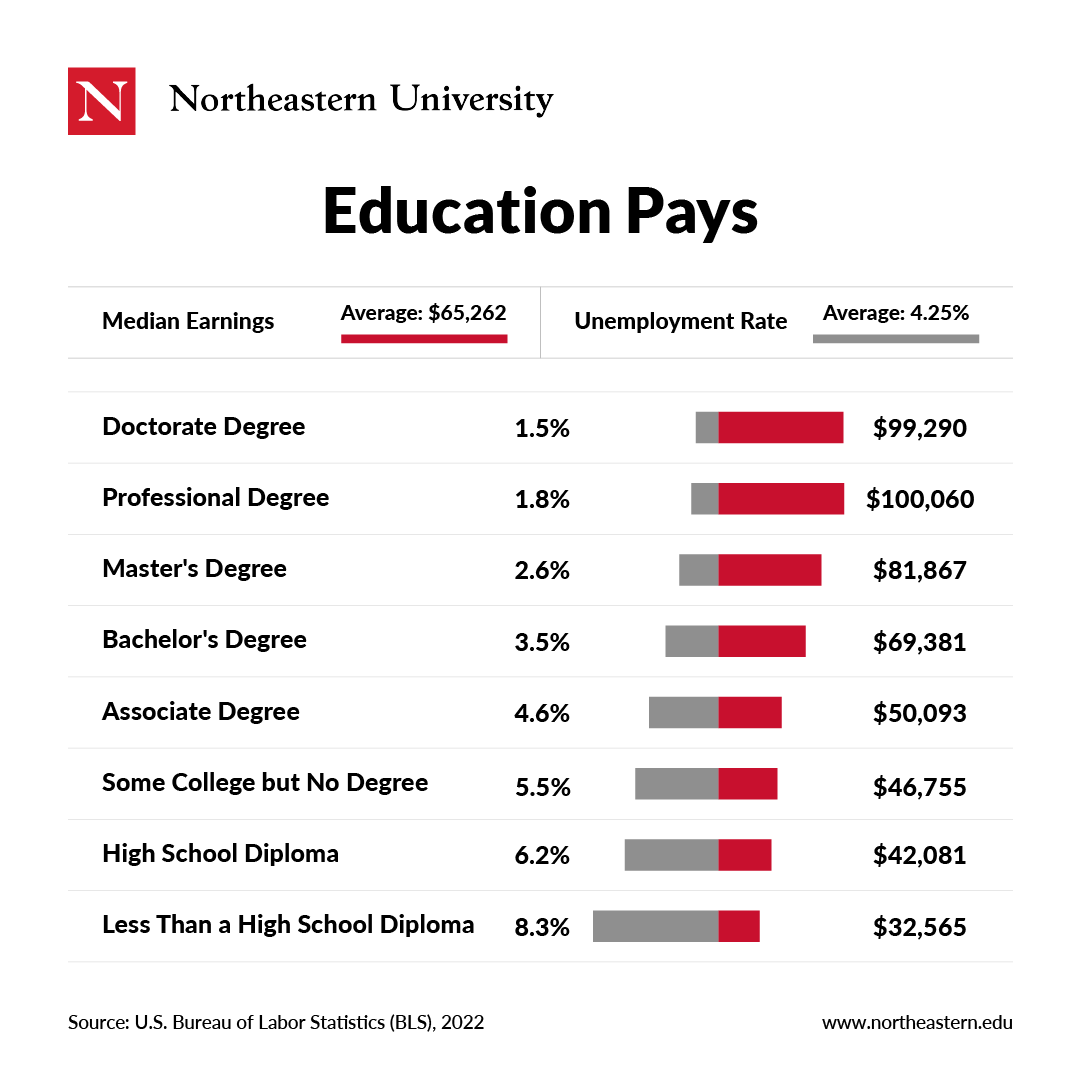 Less Than a High School Diploma
Perhaps unsurprisingly, individuals without a high school diploma or an equivalent (such as a GED) earn the lowest salary compared to all other education levels: $626 per week, or roughly $32,565 per year. They also have the greatest risk for unemployment, with an average unemployment rate of 8.3 percent.
Median Weekly Earnings: $626
Median Annual Earnings: $32,565
Average Unemployment Rate: 8.3%
If you haven't earned a high school diploma, finishing your education or earning a GED can bring substantial benefits, including an average increase in annual income of more than $9,000 along with greater job security. Additionally, earning your high school diploma will allow you to pursue a bachelor's degree should you choose, and all of the benefits associated with it.
---
High School Diploma
High school graduates earn an average of $809 per week, or $42,081 annually, and lower their risk of unemployment to 6.2 percent. Simply completing a high school education can increase your expected income by more than $9,000.
Median Weekly Earnings: $809
Median Annual Earnings: $42,081
Average Unemployment Rate: 6.2%
For each level of education that an individual achieves after high school, this earning potential increases. Earning an associate degree brings an average pay increase of more than $8,000, and earning a bachelor's degree brings an average increase of more than $27,000.
---
Some College but No Degree
Individuals who have completed some college courses but did not graduate earn an average of $899 per week or $46,755 annually. This group of students has an average unemployment rate of 5.5 percent.
Median Weekly Earnings: $899
Median Annual Earnings: $46,755
Average Unemployment Rate: 5.5%
While these individuals enjoy higher pay and lower unemployment compared to those with only a high school diploma and no college experience, they are unable to realize the benefits associated with earning a degree. By returning to school and earning an associate degree, these individuals can expect to earn an average of $3,338 more than they are currently earning. Completing a bachelor's degree, however, stands to increase their pay even further, by $22,626 on average.
Learn more: Should I Go Back to School? 4 Questions to Consider
If you started college but didn't finish, there are a number of options that can help you complete your degree. A degree completion program, for example, is a college program specifically designed for individuals who have started and not finished their degrees. These programs accept as many previously earned credits as possible so that students can graduate more quickly than if they were to start over entirely. It may also be possible to earn credit for your prior work experience, further accelerating your degree completion.
---
Associate Degree
Those who have completed an associate degree earn approximately $963 per week or $50,093 per year, and their risk of unemployment also decreases to 4.6 percent. 
Median Weekly Earnings: $963
Median Annual Earnings: $50,093
Average Unemployment Rate: 4.6%
Associate degree holders earn more than $8,000 more per year than their peers whose education stopped after high school, which translates into more than $320,000 over a typical 40-year career. 
For this reason, it is not uncommon for an associate degree holder to go back to school in order to convert their associate degree into a bachelor's degree and obtain the higher earning potential that typically comes with a four-year degree. Furthermore, since a bachelor's degree is a prerequisite for most graduate-level courses, associate degree holders with a desire to pursue more advanced degrees understand that getting a bachelor's degree is the next logical step for them to take.
Learn More: Associate Degree vs Bachelor's Degree: 5 Key Differences
---
Bachelor's Degree
Bachelor's degree holders earn an average weekly pay of $1,334, or $69,381 per year. Their unemployment rate is 3.5 percent, which is nearly half the unemployment rate of high school graduates. 
Median Weekly Earnings: $1,334
Median Annual Earnings: $69,381
Average Unemployment Rate: 3.5%
While each increase in education brings with it at least some increase in pay, the difference in average pay between an associate degree holder and a bachelor's degree holder is stark—emphasizing the opportunities college graduates can benefit from once they decide to advance their education. Bachelor's degree holders will earn an average of $19,288 more each year than associate degree holders. Over the course of a 40-year career, this equates to more than $770,000 in additional income. 
Clearly, earning a bachelor's degree still makes a lot of financial sense. But according to Anna Hughes, Senior Assistant Director of Enrollment Services at Northeastern University, the benefits are more than financial.
"Earning a bachelor's degree brings a lot of what I call soft skill development," Hughes says. "I think that learning to work together at a higher level with classmates is a huge opportunity to build self-confidence and resilience, which can be difficult to obtain elsewhere."
Additionally, it is almost impossible to earn a master's degree, doctorate, or professional degree without first earning a bachelor's degree. In this way, earning a bachelor's degree can serve as a means of unlocking further educational opportunities and the accompanying benefits.
While bachelor's degrees are often referred to as four-year degrees, accelerated bachelor's degree programs can be completed in as little as 12 to 18 months, allowing students to realize their benefits even more quickly. 
Read More: 10 Benefits of Having a College Degree
---
Master's Degree
Individuals who continue their education to the graduate level and earn their master's degree earn an average wage of $1,574 per week or $81,867 per year. At 2.6 percent, their unemployment rate is slightly lower than bachelor's degree holders. 
Median Weekly Earnings:

$1,574

Median Annual Earnings:

$81,867

Average Unemployment Rate:

2.6%
The wage gap that exists between master's and bachelor's degree holders is less substantial than the one between an associate degree and a bachelor's degree. Even still, master's degree holders earn nearly $13,000 more per year than four-year degree holders—a substantial return on investment for most graduates. And just as earning a bachelor's degree is a prerequisite for earning a master's degree, earning a master's degree is typically required if your eventual goal is to earn a doctorate or professional degree. 
---
Doctorate or Professional Degree
Doctoral and professional degrees are often termed "terminal degrees" because they typically represent the furthest that an individual can take their education in a given discipline. As such, they're often discussed together in terms of pay and employability. 
Those with a professional degree earn an average of $1,924 per week, or $100,060 annually, and have a low rate of unemployment at 1.8 percent.
Median Weekly Earnings, Professional Degree: $1,924
Median Annual Earnings, Professional Degree: $100,060
Average Unemployment Rate, Professional Degree: 1.8%
Doctorate holders earn an average of $1,909 per week, or $99,290 annually, and enjoy the lowest rate of unemployment at 1.5 percent.
Median Weekly Earnings, Doctoral Degree: $1,909
Median Annual Earnings, Doctoral Degree: $99,290
Average Unemployment Rate, Doctoral Degree: 1.5%
The increase in pay that comes from a master's degree holder advancing to a doctoral or professional degree is similar to the difference that comes from an associate degree holder earning a bachelor's degree. Individuals with doctoral degrees earn more than $17,000 more than master's degree holders on average; for individuals with professional degrees, that number is almost $18,000. Over the course of a 40-year career, this means that those with professional degrees and doctorates can earn as much as $680,000 and $720,000 more than master's degree holders, respectively.
---
Is Advancing Your Education the Right Decision?
The salary figures and unemployment rates above demonstrate that, for many individuals, earning a bachelor's degree (or graduate degree) leads to a positive return on investment. But according to Hughes, that isn't enough to conclude that earning a college degree is necessarily the right path for everyone.
"I don't think everyone needs a bachelor's degree," Hughes says. "For example, a lot of individuals who go to vocational schools probably have the background they need to be successful in their trade. Of course, to progress in their career, they might have to go back to school, but that should be an individual decision that you make for yourself."
Read More: Do I Really Need a Bachelor's Degree?
That being said, if you do decide that earning a degree will help you reach your personal and professional goals, it's important to find a program that aligns with those goals.
Hughes specifically recommends that students evaluating potential programs examine the school's price point and the type of academics being offered. The program that you choose needs to fall within your budget, offer you the flexibility and support you'll need to complete your degree while juggling other responsibilities, and arm you with the experience required to land a job after graduating.
The Bachelor's Degree Completion program at Northeastern University delivers on all of these elements. Completing your degree at Northeastern will provide the following benefits:
Flexible learning options: Online and hybrid courses allow students to learn whenever and wherever is most convenient for them, making the program ideal for working professionals seeking to finish their degree.
Generous transfer credit policy: Individuals can finish their degree quickly and affordably.
Experiential learning opportunities: Co-ops and internships allow students to gain real hands-on experience that employers are looking for.
"One thing that Northeastern is truly known for is its co-ops, which give students the opportunity to gain tangible work experience prior to graduating," Hughes says. "We believe that learning should go beyond what's in the textbook."
Do you think that a bachelor's degree completion program could be right for you? If so, we assure you that it's within your reach! To learn more, explore Northeastern's bachelor's degree completion programs or get advice from an admissions counselor today.